Bij Sharp streven we ernaar een werkomgeving te creëren waarin alle mensen hun vaardigheden optimaal kunnen gebruiken, vrij van discriminatie of intimidatie, en waarin alle beslissingen gebaseerd zijn op verdienste, vaardigheid en potentieel. Wij hebben een groot aantal mogelijkheden bij een aantal van onze wereldwijde faciliteiten voor u om te overwegen.
Sharp Our Story
Sharp, onderdeel van UDG Healthcare biedt verpakkingsoplossingen en klinische proefbenodigdheden voor farmaceutische bedrijven wereldwijd in onze vestigingen in de Verenigde Staten, het Verenigd Koninkrijk, Nederland en België. Ons werk omvat alles van de ontwikkeling van geneesmiddelen en de productie tot verpakking, etikettering en distributie van klinische benodigdheden. Onze Belgische site heeft meer dan 50 jaar ervaring in verpakking. De kracht van de site komt door de rijke traditie van techniek en technologie om nieuwe verpakkingsactiviteiten te ontwerpen, ontwikkelen en implementeren om de unieke verpakkingsvereisten van onze klanten te ondersteunen. Onze Nederlandse sites zijn Sharp Europe's Oral Solid Dose Centres of Excellence met een sterke traditie in oplossingen voor blisteren en bottelen. De moderne faciliteiten bieden meer dan 4000m2 aan verpakkingsruimte met potentieel om dit gebied te verdubbelen binnen de structuur van het bestaande Heerenveen.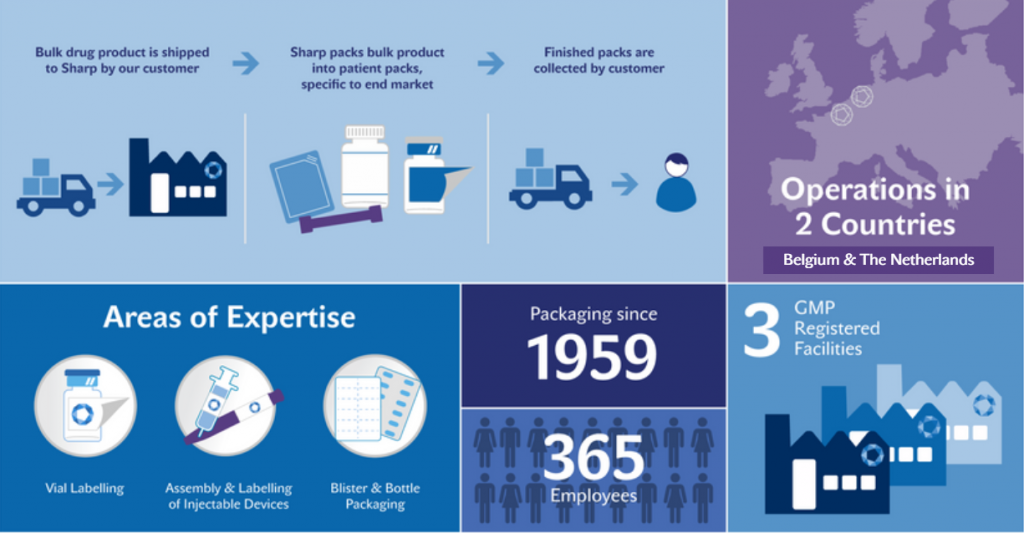 Sharp Our Values
We leven onze waarden van kwaliteit, partnerschap, vindingrijkheid, deskundigheid en energie. Onze waarden beschrijven wat belangrijk is voor ons als organisatie en creëren een omgeving die ons in staat stelt succes te boeken voor onze mensen, voor onze klanten en voor onze gemeenschap. Lees hier meer over onze waarden in actie.
Energie en expertise veranderen de vooruitzichten voor Sharp Europe
CEO Awards Winnaar Case study

EU Management Team
Het Sharp EU Management-team bestaat uit branchedeskundigen met een enorme ervaring en realistische visie. Hun achtergrond in zowel de farmaceutische als de verpakkingsindustrie geven ons een diepgaand inzicht in de uitdagingen waarmee onze klanten worden geconfronteerd. Samen zijn ze toegewijd om toonaangevend te zijn in het veld en bieden ze innovatieve, kwalitatieve en klantgerichte oplossingen die de farmaceutische industrie nodig heeft. Lees hier meer.
Sharp Our Work Matters
Als onderdeel van het Sharp-team draagt wat u doet rechtstreeks bij aan onze visie: het leven van patiënten over de hele wereld verbeteren.
The Sharp Story
Our Capabilities and Expertise.