Sharp can help you engineer and run a dedicated pen and autoinjector assembly and packaging line ensuring delivery of your product in optimum condition.
In addition to supporting product dedicated lines, Sharp has scalable assembly and packaging lines available today in our US and EU facilities to support the requirements of the YpsoMate®, Molly® and BD Physioject™ autoinjector platforms. Supporting both development and commercial-scale production for these platforms, we also offer expertise in package design, cold chain storage, temperature and light-controlled packaging environments, serialization and specialty distribution.
Injection devices such as pens and autoinjectors offer a whole range of benefits to both end-users and healthcare professionals. They make self-administration easier, which improves patients' safety and reduces their anxiety, all of which can help with patient adherence.
As a specialist in this area, Sharp has worked with most of the leading injection device platforms so even if you are only considering which platform to use and you need some friendly expert advice, contact Sharp.
Products packaged
Pharmaceuticals (small molecules)
Biologics and biosimilars (large molecules)
Our capabilities
Semi or fully-automatic assembly lines
Experience running customer-owned assembly equipment
Dedicated lines for specific devices
Inline and offline labeling, laser coding, code verification and label alignment
Tray and carton packaging
Up to three leaflets per product pack
Tamper-evident solutions
Automatic label orientation
Flexibility through integrated and independent cartoning
Cartoning of single and multipacks
Cold-chain storage (2-8°C)
Serialization of products at 3 levels: carton/kit, shipper and pallet
Specialty distribution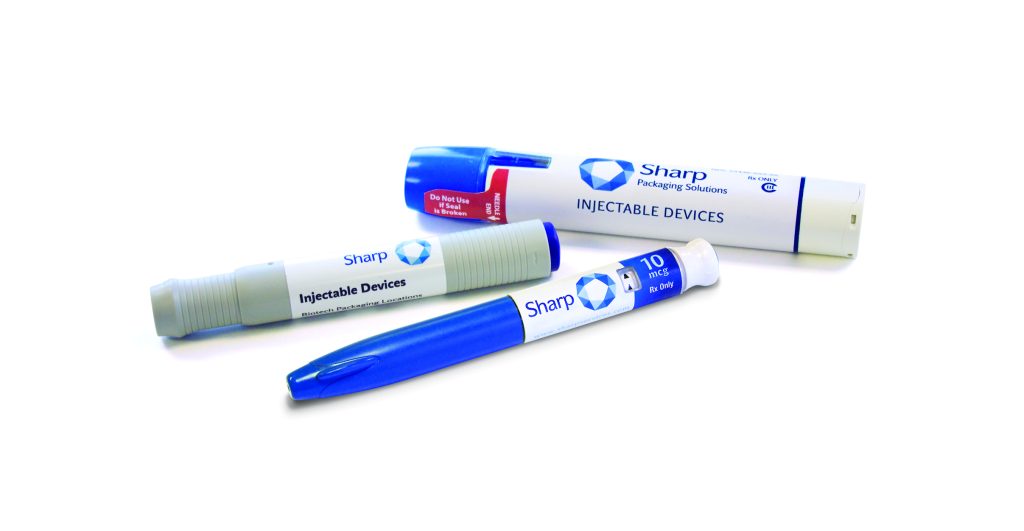 Talk to our experts team today about your packaging needs.
YpsoMate® is a registered trademark of The Ypsomed Group.
Molly® is a registered trademark of SHL Medical.
BD Physioject™ is a trademark of Becton, Dickinson and Company