Navigating the complexities of pharma and biotech packaging services can be difficult. With the growing number of complex therapies that require specialized packaging and handling requirements, selecting the right contract packaging organization (CPO) involves evaluating what services and additional benefits they can bring to your business.
Using a full-service CPO means gaining access not only to expertise in pharma packaging solutions, but also to an array of additional specialist functions, such as design and serialization, engineering, a robust continuous quality improvement (CQI) culture, qualified person (QP) services, foreign-trade zones (FTZ), and specialty distribution to name just a few.
Packaging trends
The pharmaceutical contract packaging market is witnessing substantial growth. According to recent reports, rising demand in the end-use market, growing use of outsourcing, and increasing technological innovations are contributing to market growth.
A GlobalData report which analyzes trends in new drug approvals[i] shows that small molecule approvals have now been surpassed (in 2022) by biologics. Small molecules only accounted for 41% of NME (New Molecular Entity) approvals in 2022. Biologics form 51% of the current global drugs pipeline (highest stage of development as pipeline) according to GlobalData's Drugs database (as of February 7, 2023).
Future waves of approvals for ATMPs (advanced therapy medicinal products, e.g., cell and gene therapies) will heighten demand on the contract packaging industry, further increasing the need for advanced cold chain solutions and specialized packaging designed to withstand cryogenic temperatures. As the ATMP market takes off, there will be a rising demand for contract packagers with expertise with specialized packaging and distribution capabilities.
The increase in demand for CPO services today and over the last decade is evidence of the added value that they offer to pharma companies both large and small, especially as drug developers seek to claim their share of the evolving ATMP market while overcoming complex challenges in its supply chain.
Security of supply is especially important for drug manufacturers, and although factors such as price play their role, outsourcing is not typically driven by the need to reduce costs. For instance, virtual biotech and midsize pharma companies will need to outsource because they do not have in-house manufacturing and packaging capabilities, as their area of expertise is drug development. While larger drug manufacturers will often choose to outsource to experienced contract partners to deliver new drug product launches, to support risk mitigation strategies and to allow for production flexibility if demand volumes fluctuate.
Experts suggest that the main drivers for outsourcing commercial packaging in the sector is that pharma companies need to ensure a compliant and efficient packaging operation without errors, taking into consideration their internal capabilities (or lack thereof), cost, and complexity to handle, package and store.
CPOs can streamline successful product launches
Some of the biggest challenges when working on a product launch include rapid time-to-market requirements, stringent quality control, and a breadth of regulatory compliance considerations. Working with a packaging partner who has experience, expertise and capabilities to handle these various complexities is critical to success.
Pharmaceutical packaging requires specialized knowledge, engineering and streamlined processes to meet the demands of a drug launch. Important aspects a contract packager will address include:
Technical complexity – Packaging drugs and therapies, especially at speed and scale, requires expertise and automation for labeling, kitting/cartoning, serialization, quality control and assembly of safety devices such as pre-filled syringes and pens/autoinjectors. In addition, therapies with sensitivities to temperature, light, humidity, oxygen, and time require unique materials, components, handling, and production environments to prevent degradation.
Operational complexity – There are many challenges to balance including regulatory approval date extensions, production scale up, rapid time-to-market requirements, stringent quality control requirements and fluctuating volumes to meet commercialization demands. Additionally, each product has unique packaging requirements that often evolve, not only in the initial stages of a new product launch, but throughout a product lifecycle.
Design complexity – Packaging is a critical component of the overall finished drug product, and its design must serve multiple needs including easy identification, clear instructions, safety, tracking, anti-counterfeiting, protection, and sustainable solutions. Tamper proofing and security may also require inner seals and labels, shrink wrap around removable lids, and/or unique IDs. Also essential for a multi-country drug launch is a streamlined solution for product localization, such as labeling/artwork in various languages to meet demands of local regulatory compliance.
The value of partnering with a full-service CPO
Given all these complexities it is no wonder that biotech and pharma companies are increasingly turning to experienced full-service contract packagers. Working with a partner who offers an array of specialist packaging services 'all-under-one-roof' is more efficient than managing multiple vendors. This is even more the case when managing launches in multiple markets. There is also the obvious benefit of working with a single point of contact who will have project oversight for a launch, including full knowledge of the product, its complexities, and the demands of the business.
Although there may be similarities on how drug products are packaged, each drug has its own range of handling and packaging requirements from incoming bulk through to finished product distribution. It is critical that at the beginning of any relationship with a contract packager there's transparency on all needs. It is common for requirements to evolve and specifications to develop as the project unfolds. These specifications will drive choice of packaging materials and design, how a line is engineered, the environmental conditions of the room the product is packaged in, and the technology applied, such as serialization and aggregation.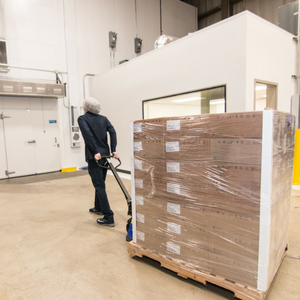 Sharp Packaging has been providing contract packaging solutions for over 70 years. Over this time the company has continuously invested in new locations, capabilities, technology, and the development of colleagues, to support the evolving needs of the pharma and biotech industry.
Further, the company provides a host of support services, from the introduction of cold chain and light sensitivity solutions for biotech drugs, to serialization requirements and specialty handling of new innovative small-batch high-value drugs such as gene therapies.
Since 1952, Sharp has grown with its clients and has the experience, expertise and flexibility to deliver rapid, multi-country launches from its US, EU, and UK facilities for various packaging formats. When it comes to custom-designed solutions, these capabilities combined with a strong quality culture drive success.
Kristin Smith, Client Coordinator, Sharp Packaging, explains: "Through our consultative approach, we identify the needs of our clients and their patients. Utilizing client-provided specifications, we can then design an efficient custom packaging process using state-of-the-art equipment. We also have the ability to meet quality requirements, including release testing, batch testing, sampling, and lot approval. We customize our service to meet their needs, as well as provide guidance to virtual, small, and midsize companies to support activities they might not be aware of."