Running clinical trials can be both a costly and a lengthy process. Costs will vary depending on the size and complexity of the trial but can run into tens or even hundreds of millions of dollars per trial and take up to a decade to complete.
Clinical trial packaging processes traditionally include a high degree of manual processes and the introduction of some automation into operations will help strengthen compliance. There are an increasing number of opportunities for new technologies to enhance the operational efficiency of clinical packaging, while also improving both the accuracy and compliance that are essential to operating in what is a highly regulated sector.
In this article, John Hoey, Director of IT Business Portfolio Management at Sharp and Samir Patel, Project Lead – Digital Systems at Sequence Inc. discuss how an innovative software platform can be used to create customized, user-friendly applications to digitize clinical secondary packaging processes.
Creating solutions
Sharp has always understood the potential of new technologies to solve problems, improve operational efficiencies and offer new solutions to enhance the quality of service it delivers to clients. In a recent demonstration of this commitment to innovation, Sharp collaborated with Tulip and its development and implementation partner Sequence Inc. to explore the use of a frontline operations platform in the secondary packaging process for IMP.
Tulip's cloud-based platform allows companies to construct and customize their own connected apps, which can then be connected to hardware throughout the production facility, enabling data to be collected. The platform allows for the creation of real-time production analytics including reports, dashboards, and visualizations.
Tulip is designed in such a way that no coding experience is required, and the apps are built using if/then trigger logic. Building custom apps for complex processes is therefore much quicker than with alternatives. Tulip also includes governance functionality, including versioning, permissions, and workspaces to help companies ensure that all their apps conform to company standards and integrate correctly with other apps.
Introducing the system into secondary packaging
At Sharp, the aim is always to maintain a continuous improvement mindset and proactively create and deliver efficiencies for clients. Therefore, investing in partnerships with innovative companies such as Tulip is important, as they provide insights and practical solutions to create more robust time- and cost-efficient processes.
For this project, Sharp wanted to implement a technological solution to navigate the challenges that were experienced in clinical packaging processes.
Our partnership with Tulip and Sequence resulted in the digitization of secondary packaging processes offering a range of benefits:
Freedom to generate apps on a qualified platform (GcP) to digitize operations, strengthen compliance, and improve business efficiency
A short learning curve for engineers and operators using the technology during the process, with an intuitive interface
Real-time verification to validate that the packaging contains the correct components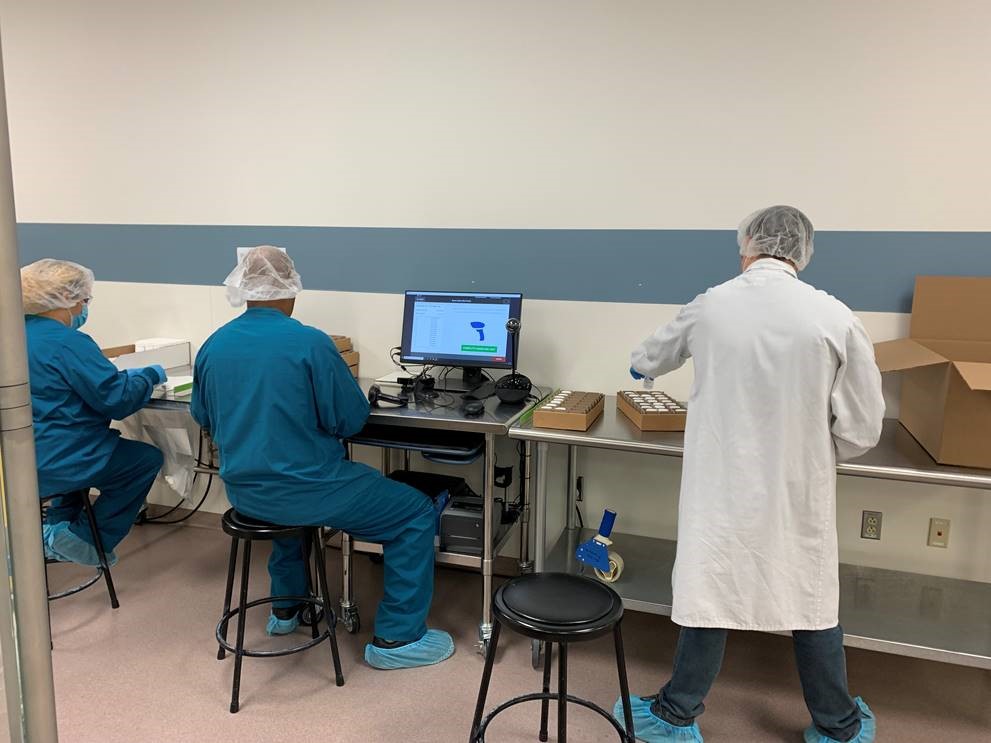 Streamlining processes
Prior to this development, the secondary packaging of the IMP was a predominantly manual process, which required more production associates. This included more in the assembly of packaging and the labeling process, as well as additional individuals to then verify and document the work being carried out.
One example of how the Tulip platform has been used to digitize processes is with the recording of documentation for the first assembly, capturing pictures or videos of the correct labeling and packaging process. These recordings can then be used to create guided work instruction apps for production associates to follow. When this content is displayed on an accessible screens, associates can follow a constant visual cue of the correct packaging process.
Once the components are assembled and labeled, the barcodes are scanned to provide digital verification of the process, which can also be used for audit purposes. Quality inspection is also completed as a digital process with guided apps to record inspections completed during the lot production.
This technology-enabled process offers two key benefits:
The potential to reduce the number of associates required to package which can improve the accuracy of the process
The creation and automation of the documentation necessary for quality inspection, reducing the turnaround time required for batch release
The ability to create automated reports ensures that packaging can also be monitored in real-time, and traceability is provided at each step of the process. The availability of a digital audit trail through the platform that can track errors, ensure quality, and provide active feedback to Quality Control is invaluable.
The automation of this clinical trial packaging process resulted in IMP being available for distribution nearly 30% faster than the equivalent manual process – an excellent demonstration of Sharp's commitment to and application of continuous improvement efforts.
Simplicity of implementation
One barrier to adopting new digital technologies in a live production process is the perception that it can be demanding to implement, in terms of time and resources. Sharp's priority is to make sure that any new technology fits seamlessly into existing workflows without disruption or requiring lengthy training, and this platform met that requirement.
The simplicity of Tulip's application, and the fact that it can be customized in-house, have helped to reduce the cost and the time invested by Sharp to tailor its packaging process to individual client needs.
Creating a robust, efficient process
With the FDA increasingly looking for ways to verify technology on the production floor, which means looking more towards lines of testing rather than written reports, the potential for a platform such as Tulip to safeguard processes and create continual electronic records will be an important enabler in the industry in future.
Continuous improvement at Sharp
Continuous improvement is embedded as part of Sharp's culture, which ensures a constant exploration of ways to further improve operations and deliver flexible, scalable and efficient clinical services.