Stringent regulation, counterfeiting and diversion have put pharmaceutical companies under increasing pressure to implement trusted track-and-trace techniques across their products.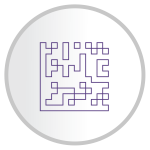 Here at Sharp, we are experts in serialization, which is the application of a specific, individual serial number to a unit of sale. It means that each product has a unique combination of lot number, serial number and expiration date, which makes it easily traceable and dramatically improves safety.
Our vast experience in serialization and powerful technology partners mean that we can aggregate serial numbers for up to five levels of packaging in multiple formats, from the cavities of our blister packaging right through to their shippers and pallets.
For you, it means the peace of mind of knowing your product is using industry-leading traceability technology, providing extra protection for your prescribers, your end users and your reputation.