Sharp Europe Management Team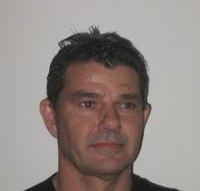 Arthur Vogels
Site Manager Oudehaske
Arthur is verantwoordelijk voor Operations en Supply chain als Site manager van Sharp Oudehaske. Hij ging in juni 2013 voor Sharp gaa werken als Operations Manager Nederland waarna hij doorgroeide naar Site Manager Oudehaske. Arthur heeft 30 jaar ervaring in Operations, Supply Chain en Quality. Arthur is afgestudeerd aan het NVC in Packaging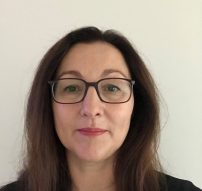 Vesna Bondzulic
Site Manager Heerenveen
Vesna is verantwoordelijk voor Operations, Supply Chain, Facilities en Engineering als Site manager van Sharp Heerenveen. Ze is sinds januari 2019 werkzaam bij Sharp. Vesna's achtergrond bevindt zich in de Operations Management en Supply chain en zij brengt ons meer dan 25 jaar ervaring in een verscheidenheid van foodbedrijven. Naast de Operations en Supply Chain kennis, heeft zij Lean Six Sigma Greenbelt.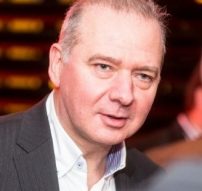 Chris Bruyninckx
Quality Assurance Manager, Sharp Europe
Chris is verantwoordelijk voor Quality Assurance binnen Sharp Europa. Hij ging in februari 2016 voor Sharp gaan werken als QA/RA Manager België waarna hij doorgroeide naar Quality Assurance Manager Europa. Chris heeft 30 jaar ervaring in diverse business to business quality rollen. Hij is afgestudeerd aan de Katholieke Universiteit in Leuven in Bio-Engineering.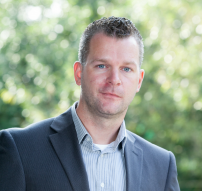 Paul De Lange
HUMAN RESOURCES MANAGER, SHARP EUROPE
Paul is verantwoordelijk voor Human Resources binnen Sharp Europa. Hij ging in maart 2009 voor Sharp werken als HR Manager Nederland, waarna hij van Workday project Manager doorgroeide naar Human Resources Manager Europa. Paul heeft 15 jaar ervaring in Human Resources en is afgestudeerd aan de NHL Stenden in Leeuwarden in Human Resources Management.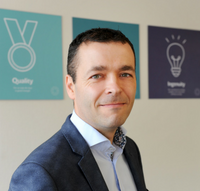 Guido Martens
Manager EU Projects, Sharp Europe
Guido is verantwoordelijk voor EU Project Management, kostenraming en serialisatie. Voordat hij in 2008 bij Sharp kwam, werkte hij als een mechanische ontwerper van kant-en-klare robotcellen voor auto- en verbruiksgoederen en als productengineer voor Helvoet-rubbers en kunststoffen. Hij kwam in 2008 bij Sharp als projectingenieur, voordat hij een rol op zich nam als projectcoördinator en kostencalculator. Guido heeft een Master of Science - Electro Mechanical Engineering.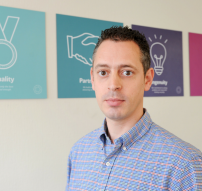 Tom Saels
IT MANAGER, SHARP EUROPE / DIRECTOR OF DIVISION IT OPERATIONS
Tom is verantwoordelijk voor IT binnen Sharp Europa en Sharp Divisie. Hij ging in januari 2015 voor Sharp werken als ICT Manager Europa waarna hij van IT Business Partner Europa doorgroeide naar Director of Sharp Division IT Operations. Tom heeft 15 jaar ervaring in Information Technology en is afgestudeerd aan de PHL in Hasselt in Informatics.