The Challenge
In 2017, Sharp was approached by a small virtual pharma client to manufacture an oral formulation of their new Alzheimer's treatment. The client was specifically looking to improve on delivery timelines for the manufacture of a capsule, as they were having issues with lead time with their existing CMO.
In addition to the challenging timelines, this Phase III drug also contained two active ingredients in a single dose, which significantly increased the complexity of the clinical manufacturing process. The client also required 8 different batches of the drug – that is 8 different product strengths – each with a batch size of 500,000 units. All methods had to be validated and the product needed one month of stability testing for the necessary FDA filing.
The Sharp Solution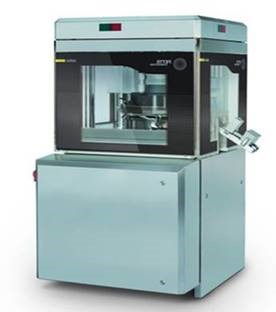 At Sharp, we strive for continuous improvement and maximum efficiency in everything we do and our R&D Analytical and Formulation Development teams – the analysts and formulators – collaborated closely on this project to optimize the outcome for the client.
Originally the drug was manufactured in capsule format. However, as Sharp began working with the powder blend, the poor flow characteristics of the cohesive powder became clear. Issues of flow lead to poor weight uniformity in the final product and in cavitation in the powder blend in the hopper. The flow difficulties prompted Sharp to recommend switching to a tablet format.
By using a dry granulation technique, Sharp could produce a good flowing granulation without any significant change to the composition of the product. Once all 8 batch strengths were manufactured at the required volumes, they were then blister packaged for phase III distribution.
Wherever possible at Sharp, our focus is to reduce the duration, the cost and the complexity of clinical trials for our clients. We were delighted to have proven ourselves once again, bringing this trial to a successful conclusion almost 6 months ahead of schedule for our pharma client.

Frank Santillo, Senior Director of R&D and Analytical Services at Sharp Clinical
The Positive Impact

The Sharp Clinical team fully delivered on its client commitment to manufacture and package the drug within just 3 months – an improvement of between three and six months on the previous manufacturer – which allowed the client to successfully file their Phase III IND amendment.
As well as demonstrating our Values of Ingenuity, Quality and Energy to our client, the Sharp team proved again the significance of internal Partnership in collaborating for success.