Cell and gene therapies (CGT) are unique in that they often target diseases or conditions for which no other therapy alternative exists, which makes their approval and commercialization even more pressing for the affected patients. These new kinds of therapies are also unique in how they are challenging conventional supply chain models, exerting pressure on established supply and distribution processes and forcing providers to rapidly adapt their services.
In the case of the gene therapies (GT) supply chains, the focus is entirely patient-centric and the 'volumes' can often be as low as 1 dose per batch/lot. To deliver against this requirement, the supply and distribution model needs to be much more flexible and precise, as gene therapies demand a complete reimagining and transformation of the traditional model.
Sharp has been contracted by a client to support the anticipated commercial launch of their portfolio of gene therapies. This new challenge led to a cross-functional and holistic adaptation of Sharp's existing packaging, labeling and distribution processes. To support this client, Sharp needed to be able to respond immediately to patient-driven supply needs, without compromising on quality.
Adapting the optimal production environment
The volumes in gene therapy programs tend to be relatively low when compared to other 'traditional' drug products that Sharp supports. These lower volumes and the low or ultra-low temperature handling that is typically required meant the layout of the production suites needed careful design consideration. Extensively engineered contingencies are also essential to ensure that storage and kitting environments are maintained within strictly defined parameters.
At its Bethlehem facility, Sharp constructed a new dedicated 1000 sq. ft. packaging suite specifically to support gene therapies. The suite includes dedicated HEPA air handling systems with full redundancy and an emergency power generator. It includes two (2) ante-rooms at entry, with positive pressure to ensure cleanliness of the suite.
The temperature, humidity and dew points (DP) are monitored constantly with an automated system complete with emergency call-out should there be any deviations. Dedicated -80°C freezers have been installed and are also monitored round the clock.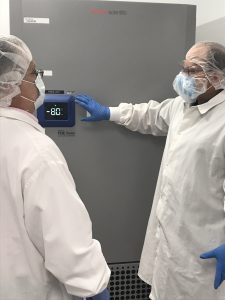 As the security of the suite is vital, all doors entering the suite require card access to ensure only authorized personnel can gain entry and security cameras are installed inside and outside the packaging suite to monitor activity.
The GMP infrastructure has been designed and implemented to meet small batch size requirements using 5S lean manufacturing methodologies throughout, to optimize gene therapy packaging, labeling, storage, and distribution. This allows timelines to be reduced to an absolute minimum, a real requirement given the critical nature of the product.
Developing an on-demand labeling, packaging and dispatch process
A high degree of partnership and synchronicity among the various stakeholders and each process is vital to ensure the timely flow through of materials. Near real-time monitoring and tracking of the product through the supply chain is necessary to ensure it is maintained within precise temperature ranges, packaged and monitored while in transit and delivered to the correct destination at the right time.
Any new drug launch requires process performance qualification (PPQ) and Sharp has undertaken extensive engineering studies to develop the full packaging process for gene therapies, alongside robust evaluations of the most appropriate and secure packaging solution to maintain product integrity and safety precautions.
Sharp collaborated extensively with the client to develop patient-specific gene therapy kits with special color schemes and fonts for commercial use. Packaging and labeling material had to be designed to withstand an ultra-low temperature of -80°C.
Working at these ultra-cold temperatures adds significant complexity when it comes to packaging and labeling. Successfully managing this part of the process calls for skilled and experienced engineers, with access to a suite of capabilities and a deep understanding of temperature-related challenges.
The labels must be engineered and validated specifically for ultra-cold temperatures – the inks, adherence materials and the details of the label application process or container type can have a dramatic impact on long-term adherence. Given the personalized nature of these medicines and the limited options for over-labeling once materials are frozen, the selection of the correct label option the first time is vital.
The next stage involved serialization and the printing of the individual labels that detail all the variable production concentrations and the patient-specific information. It was also necessary to include shipment packaging based on the individual order requirement including unique barcodes.
Managing and limiting the cumulative time out of environment (TOE) at every stage is essential. Handling specifications and instructions were developed, in association with safety guidelines for handling materials at -80°C. 5S lean principles were again applied to develop the processes for the movement and tracking of -80°C product-specific materials to accelerate the flow of the therapy wherever possible.
Shipping and receiving processes were also carefully defined, ensuring that the precise freeze-thaw cycle times of the products are met.
Assuring on-time/on-spec distribution directly to the clinic
Sponsors are redesigning their logistics platforms with the patient in mind, to connect these vital therapies directly with them.
The process of tracking must be fully embedded and clearly visible in each batch record and distribution documentation up until the therapy is delivered to the patient. The goal as always is to reduce errors and non-conformities to an absolute minimum.
All shipments are distributed via qualified, product-specific shippers and coordinated with couriers as a high priority, constantly supervised shipments with real-time GPS location tracking, geo-fencing option and temperature monitoring.
On receipt, each unique therapy is barcode scanned to ensure the correct individual package reaches the corresponding patient at the clinic. It is essential that data systems are integrated between packagers, manufacturers and the marketing authorization holder. All of the activities including scanning are performed outside of the freezers over dry ice to ensure the correct temperature is maintained.
A thorough understanding of shipping requirements and regulations is also essential to the process. Due to the ultra-low temperature requirement of these gene therapies shipments (which usually range from -20 to -80°C but can reach as low as cryogenic conditions at -153°C).
Adapting and transforming – from supply-led to demand-led
With gene therapies predicted to make up 45% of all new therapies launched by 2025, the transformation from a supply-led to a patient-led demand chain model will become more the new 'norm' and service providers supporting these products will need to adapt accordingly.
Successful supply chain partnerships in gene therapy will be characterized by those that offer small-scale commercial packaging expertise, specialist logistics and distribution capabilities with the agility and willingness to adapt their services.