Sharp – part of UDG Healthcare plc, a global leader in contract packaging and clinical supply services, officially opened its new £9.5 million facility in Rhymney at an Open House and ribbon-cutting ceremony today.
Development of the site began in 2017 and following a successful inspection by the UK's medicines regulator, the Medicines and Healthcare Products Regulatory Agency (MHRA) in early 2019, the new facility is fully operational.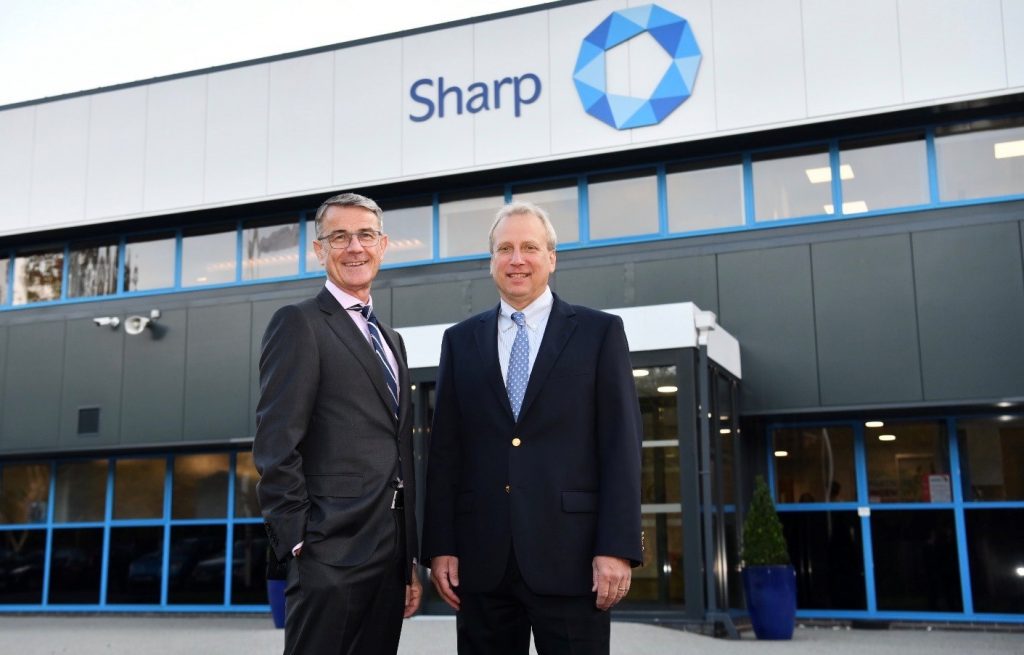 Investment in the state-of-the-art Clinical Services Centre of Excellence, which included £500,000 from the Welsh Government, means the company can offer an extended range of primary and secondary drug packaging, storage and distribution services from the site.
This milestone coincides with Sharp celebrating over thirty years in the delivery of clinical trial services in South Wales, which has secured over 70 skilled local jobs to the area with potential for more.
Ian Morgan, General Manager for Sharp Clinical Services UK, said:
"We are delighted to have officially 'cut the ribbon' on our brand-new clinical services facility in Rhymney. Investing in new facilities, increasing production capacity and expanding our capabilities helps us to meet growing demand for our services and is also an important way of creating jobs and supporting the communities where we operate."
In designing the new facility, Sharp also demonstrated its commitment to the environment in which it operates, investing in a solar panel system which is already generating approximately 20% of its total annual electricity requirements.
"We have a long-standing history in the area and are dedicated to supporting both our customers and our employees for years to come and the investment in the Rhymney facility is a testament of that commitment."
Eluned Morgan, Minister for International Relations, said:
"This news is further commitment and dedication by the company to invest in Wales even with Brexit looming. I was delighted to hear their future plans during my visit to their Headquarters in Dublin earlier this year.
"I look forward to continuing engagement through our office in Dublin as we seek to further strengthen the relationship between Wales and our closest EU neighbour, Ireland."
Economy Minister Ken Skates said:
"I am delighted the Welsh Government has supported Sharp to open this fantastic new global pharma centre of excellence. Irish-owned Sharp Clinical has a long history of providing valuable services to the clinical services industry, and is an important employer in the Rhymney Valley area, providing quality job opportunities. The company is a real asset to the region, and I congratulate them on celebrating 30 years of operations in South Wales. I look forward to seeing them continue to grow and develop as a result of this significant investment."
Sharp Clinical
Sharp Clinical offers a full complement of clinical trial services, including analytical, formulation development, clinical manufacturing and packaging, storage and distribution. Sharp also offers an interactive response technology (Clinical IRT) platform which can accommodate simple to complex randomization schemes as well as clinical supply chain management.
During 2018, Sharp Clinical invested $36 million in new dedicated facilities in both the US and the UK and can offer QP services for European distribution. We service every phase of the drug lifecycle from Phase 1 through to commercialization and through our global network of over 30 depots we can distribute to every region of the world. Our highly experienced team will help you optimize every aspect of your clinical trial.
For more information on Sharp and its solutions, visit www.sharpservices.com or follow us on LinkedIn, and Twitter.