Launching a new drug in the European marketplace presents a variety of unique challenges. Numerous official working languages, complex independent regulatory requirements combined with an overarching framework, and the intricacy and scale of distribution are all characteristics of an EU launch.
Much like in athletics, jumping these hurdles is a given – it's the speed at which this is achieved that makes the difference. From the moment a drug receives regulatory approval, the clock is ticking and the success of a drug launch depends heavily on the expediency of the supply chain and packing and distribution of a product. Speed to market matters for both novel therapies and biosimilar or generics, but for different reasons:
For novel therapies, the industry wants to get potentially life-saving therapies to patients as quickly as possible.
For generics and biosimilars, with the latter coming into sharper focus in recent years, it's about competition and getting to market first. The business that launches first, will drive volumes and will benefit from patient familiarity – especially with injectable devices where patients show less willingness to switch products, even if an alternative is cheaper.
Communication is the vital ingredient
Packers have a relatively small but vital role to play when it comes to meeting the demanding timings of any launch. There is a consultative element, with packaging partners often guiding what is possible and when – especially when it comes to a company launching its first product. In every scenario however, dialogue and transparency are key to mitigating risk.
Much of a contract packaging company's role involves hypervigilance and dedicated management of the many aspects of the launch, including: artwork processes, getting approvals rapidly, quickly manufacturing components where necessary and then initiating a highly effective production plan.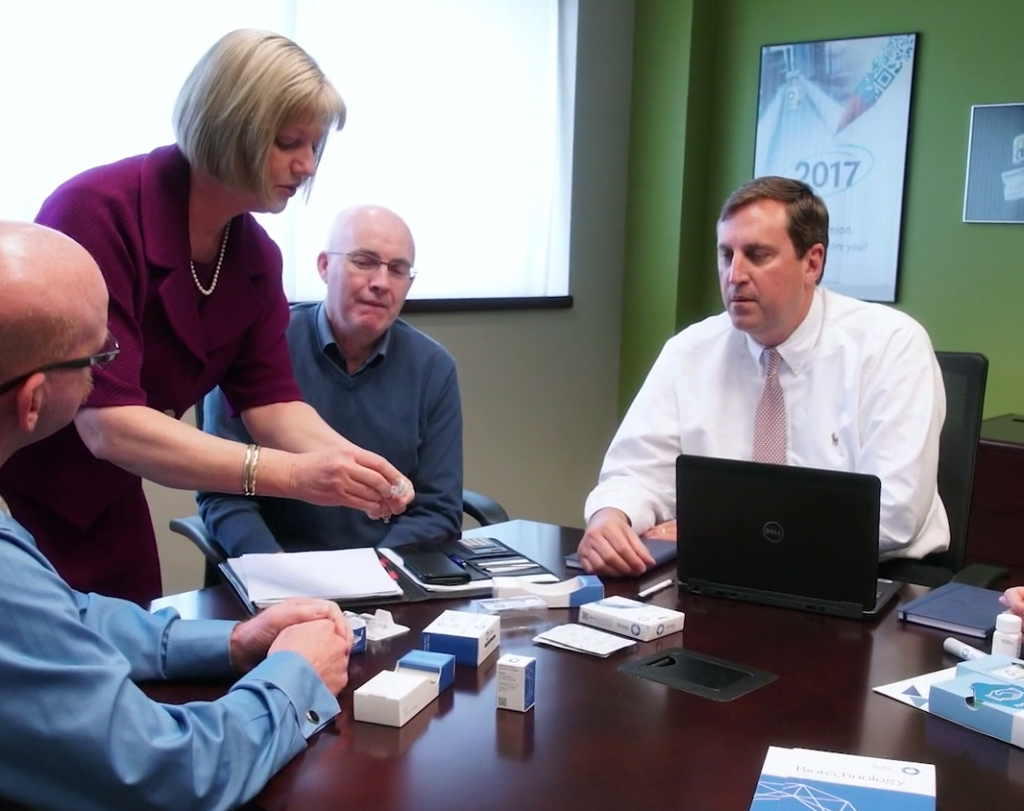 The key ingredient throughout all of this is communication. Project leads manage and ensure delivery through continuous and highly effective communications that align different departments within their organisation, the customer's and all partners' involved in the supply chain.
One of the prominent challenges in launches is that full oversight of the supply chain is often missing, making it difficult to anticipate changes. Early visibility and transparency are vital to project plans and should be facilitated wherever possible, but the reality is that contract packers need to be inherently flexible, agile and solutions focused in order to deliver.
Service, reliability and honesty, along with regular communication is what makes for a successful partnership. Being transparent about problems, and the potential impact on outcomes is essential.
Artwork in multi-market launches
When a product is to be launched in multiple markets, such as the EU where there is potential for up to 27 different sets of artwork, a key focus for packaging is artwork approval. A lot of close collaboration and planning with printers is needed to get materials turned round quickly and by deadline.
To expedite launches, a number of approaches can be taken depending on the client's requirements, the value of products, and the risk-benefit pay-off.
Packaging providers will sometimes agree to run two-pack orders for the artwork variations still pending approval assuming that one will be approved – if approval comes in time, only one will run. Rework can then be done for higher-value products and depending on the client's wishes. The value of being first to market will often offset the risk of waste and the cost of rework.
US vs EU: late-stage customization by default
Rapid launches used to be almost unheard of in the EU while relatively commonplace in the US, due to the contrast in the number of SKUs involved: 1 for the US vs 27 in Europe. That situation is changing however, as rapid launches become more prevalent and therefore experience and proficiency grows in the EU market. It's still the case that EU launches have longer lead times and the US tends to be faster, but the gap is closing.
There are a number of reasons for this, but one of the more notable is the established proficiency in on-demand packaging. While this capability is considered unique in some regions and businesses, it is effectively the default in the EU because of the numerous SKUs that a contract packer has to manage. As the skills and processes have been refined, the speed to market has accelerated.
A note on aggregation
It is a given that contract packaging companies should have reliable, compliant serialization capabilities in place and these shouldn't impact timelines. However, in the EU, there has been a strong trend towards aggregation with big pharma and companies with high-value products often mandating it as a way of creating efficiencies in their supply chain. While Sharp's approach is to aggregate as standard, it can create additional complexity, cost and time delays for some packaging companies and their partners, where they haven't implemented it alongside a serialization solution.
Partner with Sharp
With over 65 years in business, we have the experience and expertise to design and engineer a packaging solution that meets your new product launch needs. We collaborate with you to deliver expert, flexible and tailored services that meet the most stringent quality demands – Sharp, part of UDG Healthcare, is your trusted pharmaceutical and biopharma packaging partner.