Bringing a drug through clinical trials to the commercial market is an expensive and lengthy process that involves a network of moving parts. It can take years before a drug makes it to launch and many trials are subject to setbacks along the way. Managing a clinical trial manually can not only risk additional delays, but it can also add to the overall budget.
Manual processes in clinical trials require dedicated resources at each investigation site to properly manage activity on a day-to-day basis. Data management alone can account for a significant portion of the total cost in a trial when procedural, site monitoring and extra staff time is factored in. The salaries of extra personnel at each site, the costs of manual documentation, distribution and supply can quickly begin to add up. This cost pressure can put a clinical trial at risk before it gets started.
This article addresses how interactive response technology (IRT) can solve and even prevent, some of the most common challenges of manually managed clinical trials and outlines how to choose the best IRT solution for your clinical trial.
What is Interactive Response Technology (IRT)
Clinical IRT is a software solution that automates the management of patient interactions and drug supplies during clinical trials. This is an invaluable tool for the efficient management of a range of functions that are essential to saving sponsors, drug depots, and investigative sites time and money by automating and digitizing their processes. IRT digitally organizes patient enrollment, management and randomization, drug kit assignments, inventory and resupply management, patient medication activity, shipping, data reporting and in some cases, more.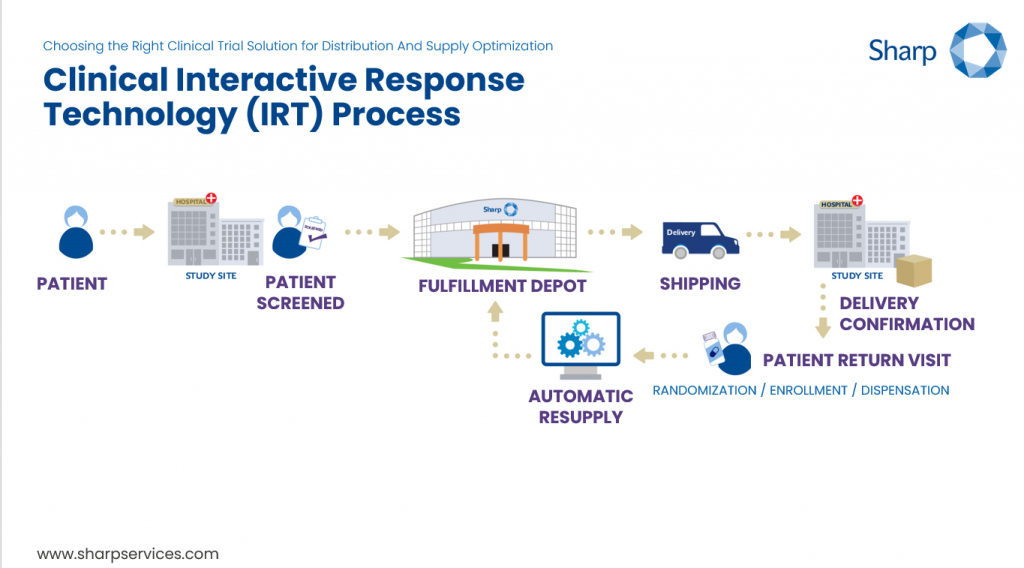 By automating activities that would otherwise have to be done manually, a clinical IRT solution allows processes to run more efficiently and offers a powerful opportunity for connectivity and transparency across the network of people involved in the trial, each of whom has their own unique role and who together, are working towards the same goal.
The benefits of IRT
The use of IRT in clinical trials has many benefits. Above all, IRT saves valuable time from kickoff to the moment the trial goes live. With the use of a typical system within the industry, a manual process can take up to 12 weeks, with an IRT solution, that timeline can be reduced by as much as 4 weeks. IRT does this by automating the reporting process and eliminating the need to have a large team at each investigation site while also minimizing the risk of human error.
Furthermore, randomized clinical trials have long been considered an industry best practice and using an IRT solution to allocate a randomization scheme is one of the best ways to eliminate bias. IRT can then take a complex randomized trial and translate the data into a visual, web-based interface which is accessible across teams allowing for a greater degree of transparency, control and monitoring of the trial.
Selecting the right clinical trial solution
Simply adding IRT to a trial will not guarantee an efficient supply chain solution. Each clinical trial has specific needs, therefore IRT solutions need to be adaptable and should offer a range of capabilities to choose from. The complexity and the number of variables involved – such as the number of clinical material types, label languages, countries, and dosing schedules – will impact the overall efficiency and cost-effectiveness of each trial. An all-encompassing IRT solution works best when used to manage a trial with a high number of participants which needs randomization and monitoring. However, IRT is not right for all clinical trials and can sometimes overcomplicate a project.
Early-stage trials or open-label trials which have fewer subjects or those that do not call for large-scale randomization and therefore require low patient interaction may not benefit from an IRT solution. However, this does not mean these project coordinators would not also greatly benefit from additional control and visibility over drug management and data collection in other areas of the trial. For smaller trials such as these, an inventory management system (IMS), such as Clinventory, might be the perfect solution in place of the IRT platform.
Read more about the benefits of an Inventory Management Systems (IMS)
Conclusion
Choosing the right clinical trial solution for distribution and supply optimization may seem overwhelming. While it is tempting to save costs and proceed with a clinical trial manually, setbacks in timeline, extra personnel and risk of human error may end up costing more in the long run. Considering an IRT or IMS solution and how they might add value to the specific needs of a clinical trial will add transparency, free up time and personnel, and ultimately set the trial up for success.
Sharp
Sharp has developed a suite of clinical IRT solutions that are designed to be flexible, scalable and efficient, offering clinical trial supply management of everything from patient randomization and real-time drug allocation to dynamic drug supply forecasting and reporting.