December 20th, 2018
As Sharp Clinical celebrates 30 years delivering clinical trial services, Rachel Curran, Head of Commercial Services, reflects on her 25 years with Sharp and shares the incredible journey from a small family-owned business in Llangattock, South Wales, to being part of a world-class pharmaceutical manufacturing, packaging, storage and distribution facility in Rhymney, Wales.
Where it all began
Sharp Clinical Services UK started out in 1988 when 3 pharmacists opened DHP Ltd as a hobby alongside their full-time jobs. Later Steve Williams took over control of the business and gave up his job in Norgine to make a success of DHP where his wife Jill later joined him.
The first premises were located in an industrial unit at Llangattock. We started with just one over encapsulation machine, as Astra Hassle (now AstraZeneca) in Sweden placed a number of large over encapsulation projects with us. The next machine we purchased was a manual universal blister machine. One really good thing about the Llangattock premises was that we worked next door to a Bakery. The pastries were to die for and the smell coming through the unit every day was amazing!

Eventually, the company expanded and we made our first move to Castle Meadows in Abergavenny. There we won a large blistering contract from Bayer for the "Insight" study and purchased our first fully automated blister line. Later we added a second blister line and a second over encapsulation machine. DHP started to grow as we were conducting all the secondary packaging for Fisons, millions of over encapsulation tablets for Astra Hassle, and then later Astra Draco and Lilly. We won a large project for Bayer for over 1 million blister strips which enabled us to buy an additional 2 blistering lines.
The business continued to grow and another building was taken on in Gavenny Court in Abergavenny, which was dedicated to storage and distribution. At that time, AstraZeneca were closing their facility in Corby and they asked if we could take their supplies and transform our warehouse in 6 weeks. It was a challenge but everyone stepped up and all of the pallets were transferred to DHP on time.
Bilcare becomes Sharp
In 2006, DHP was acquired by Bilcare Limited and we moved to a new facility in Crickhowell, which opened in 2007. Once in Crickhowell, we continued to grow and later moved all our storage and distribution to the same site. In 2010, we opened a second unit on the Elvicta Industrial Estate. The new unit added 15,000 sq ft and doubled our capacity to package, store and distribute clinical supplies.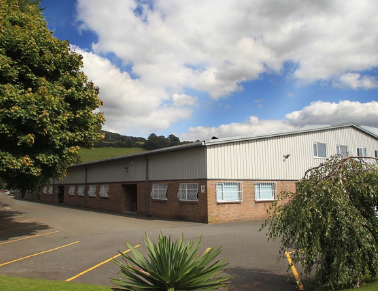 UDG Healthcare acquired the UK and US clinical services division of Bilcare Limited in 2012 and rebranded as Sharp. Being part of UDG Healthcare has allowed us to invest in the latest ideas, processes and technologies keeping us right at the forefront of the clinical trials industry.
Now in 2019, we are embarking on another exciting move to our new pharmaceutical manufacturing, packaging and distribution facility in Rhymney.
Over my 25 years with the company, it has been a privilege to work in a job I love and to see the small family company grow to a £20 million turnover company with 75 employees. Over the years there have been many challenges but we have always pulled together to exceed the client's expectations. What has stayed a constant is that everyone really cares about the company and the clients and is committed to doing the best they can.
The next chapter for Sharp Clinical Services is just beginning and it is looking to be just as exciting and memorable as the last 25 years.